How does online therapy work?
We will meet through my HIPAA-secure online platform. That's a fancy way of saying that I work with a reputable company to ensure your privacy and confidentiality are a priority.
The platform we use allows us to see and hear each other. Sometimes, however, technology can go awry, but I also have some backup systems in place in case that happens.
Using the platform is easy. First, you must sign up through the client portal and create a unique login and password.
The client portal is so convenient. It allows you to join a session and make, cancel, or reschedule appointments. We will also be able to share documents.
Isn't it better to see a therapist in person?
In my experience, I have found that online sessions can enhance the therapy process because you will be less likely to feel rushed to get to an appointment and may be less likely to cancel. Consistently attending sessions is extremely important to ensuring your success.
Now, online therapy may not be for everyone, and that is ok, too. If we start working together and it doesn't feel right for you, we can talk about helping you transition to an in-person therapist. I highly recommend trying at least four online sessions to see if they work for you.
How long is a typical session?
Sessions are about 50-55 minutes – giving us enough time to address and process your priorities and plan what you might like to work on between sessions.
Do you accept insurance?
I am an out-of-network provider. What that means is if you have out-of-network benefits, you might be able to receive reimbursement through your insurance company.
The way payment works is that you will enter your credit card information into the secure client portal and will receive a charge right after each session. Then, you will receive a monthly Superbill Receipt from me with all the information you need to submit directly to your insurance provider.
Your insurance provider will send approved reimbursements directly to you. If you do not have out-of-network benefits, discuss with your accountant if unreimbursed medical expenses are something to include in your taxes.
I am not a financial expert, and this is not financial advice. Some folks work with their tax preparer on this because they prefer not to submit it to their insurance company.
Why do you recommend a free initial consultation?
Thank you for asking this one! An initial consultation is super essential for you and me. It helps us see if we are a good match to work together. I will guide us through the consultation so that I can learn a little about you and what you would like help with right now. It helps me assess whether I am the best person to help you.
You get to assess if talking to me feels good and right to you. You might wonder what happens if we are not a good match to work together. Well, then, I will gladly try to help you, if possible, find someone who is a better match for you. I aim to help you find the best person to work with you.
Who is your perfect client?
Nobody is perfect, so my ideal client is "exquisitely imperfect." I will welcome them just the way they are. With that said, many of my clients do have some similarities. Many are professionals and work in mental health, health care, wellness, computer technology, project management, etc.
They all are dedicated to working on their mental health and are interactive in sessions. They are open to experimenting with me and trying new skills.
I work well with clients who experienced past or recent trauma, anxiety, depression, grief, and loss.
How do you pronounce your last name?
I get that question a lot, so don't worry if you don't know how to pronounce it. There are a couple of different ways you can say it. I pronounce it like this – Tai-shAY-daa. But the good news is, you can just call me Toni and that is fine by me!
Are you LGBTQIA+ friendly?
YES! All are welcome and affirmed. My practice is a safe place.
How long will I be in therapy?
My goal is for you NOT to be in therapy forever. I help clients learn and practice the skills they need and help them gain confidence to do it on their own as quickly as possible. The length of time you will devote to therapy will depend on you and your unique situation. We will work together to ensure you spend only as much time as you need to achieve your goals. It is not rushed but focuses on getting you where you want to go.
How do you work with clients?
I work with clients in a gentle, supportive way. I know you have the answers, and we work together to discover your authentic voice. Sometimes our work together will feel like we are detectives, curious about thoughts, feelings, and sensations and learning how to shift things slightly to see what works for you.
Are you licensed?
Absolutely! I am a Licensed Clinical Social Worker in New Jersey. That means that I can work independently as a therapist with clients in New Jersey. I am also a Board Certified TeleMental Health Provider, which means I have specialized training to work with clients online.
I am also a Certified Clinical Trauma Professional and Clinical Supervisor, allowing me to supervise other therapists.
How long have you been in practice?
I began my private practice, Strong at the Core Counseling, in 2015, but before that, I worked as a therapist for other organizations.
What are your strengths as a therapist?
I am an open-hearted deep listener. I know you have the answers, and when I listen with my heart, I can hear the stirrings of your authentic voice and wise spirit that will direct us where to go.
What is the best way to get in touch with you?
I am looking forward to speaking with you. You can fill out the contact form in the footer, and I will get back to you as soon as possible. You can also call me at (908) 214-7166 or email me at toni@strongatthecore.com.
Dogs or cats?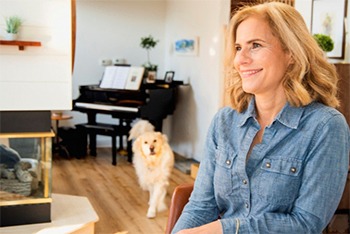 BOTH – definitely! Chances are, when we start working together, you will get to meet my cat, Finn. He likes to hang out with me and my clients. Lexi, the "queen" of the household, only occasionally will grace us with her presence. Tucker, my golden retriever, rarely shows up to say hello because he is too busy napping. If you get to meet him, it will be a treat for both of us!