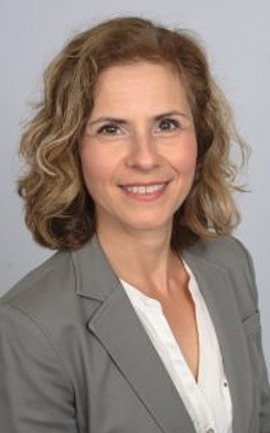 An Interview With Maria Angelova for Authority Magazine
Let's face it. It seems that everyone is under a great deal of stress these days. This takes a toll on our mental wellness. What are some of the best self-care practices that we can use to help improve our mental wellness and mental well-being? In this interview series, we are talking to medical doctors, mental health professionals, health and wellness professionals, and experts about self-care or mental health who can share insights from their experience about How Each Of Us Can Use Self Care To Improve Our Mental Wellness. As a part of this series, I had the distinct pleasure of interviewing Toni Teixeira
Toni Teixeira is a Licensed Clinical Social Worker and Psychotherapist in private practice providing online therapy for women healing from trauma, depression and anxiety in New Jersey. Toni uses somatic interventions with her clients to support the interconnectedness of mind, body and spirit because she believes that connection is at the core of who we are and caring for that connection can strengthen us from the inside out. Learn more at strongatthecore.com.
Thank you so much for doing this interview with us. It is a great honor. Our readers would love to learn more about you and your personal background. Can you please share your personal story? What has brought you to this point in your life?
I love that you are interested in my background and recognize that personal stories influence the work that we do! As a graduate student studying psychology, I started my career doing research. One of my projects was interviewing women who were sexually abused as children for a book chapter I was working on with other students and psychologists. Since it was a research project I was just listening, trying to be supportive and taking lots of notes so that I could analyze the narratives later. After the interviews, I reached out to the participants to thank them for sharing their stories. Every one of those women thanked me for listening to them. They told me how powerful it was for them to be seen, heard, understood, and to break the silence around the abuse. After that I thought, if I could help just by listening, then I wanted to learn the clinical skills I needed to truly make a difference. So after completing a Master's in Psychology I went on to NYU to study clinical social work and have continued to work with individuals who have experienced trauma, grief, depression, and anxiety. I became really passionate about the topic of self-care and mental wellness, especially for caregivers, when I was working for the military and trained sexual assault victim advocates who cared for victims.
What is your "WHY" behind what you do? What fuels you?
When you ask that question, my mind immediately goes back to one particular night I was sitting in bed, all cozy in my jammies, and I thought about calling my sister to say "hi" and tell her "I love you." I reached over to my old school princess phone to pick it up and I heard the music begin for a "Sex and the City" episode. I let go of the phone, turned my head toward the TV, yes I was easily distracted by shiny things, too, and I took my hand off of the phone and thought to myself, "I'll just call her tomorrow." The next day my phone rang early in the morning and it was my other sister calling to say that our sister died suddenly in the middle of the night. So, tomorrow never came. I never got to make the phone call to just say "I love you." Nearly 20 years later those words still sting and I can feel the wall of tears behind my eyes. I can't go back and change the past, but this experience has motivated me to be mindful, to show up for myself and others, and to not let an opportunity slip by where I can tell someone how important they are to me. Now, when I say good-bye to the important people in my life, on the phone or in person, I always say "I love you" which by the way is kind of awkward for some of my friends, especially when I make a new friend, but many of them have gotten used to it and some of them even say it back to me now. That experience drives me to be more mindful and to be more present in my life and in the lives of people I care about.
Sometimes our mistakes can be our greatest teachers. Can you share a story about a mistake or failure which you now appreciate has taught you a valuable lesson?
When I was a new Sexual Assault Response Coordinator (SARC) for the military, my job to help victims of sexual assault, train victim advocates and train military personnel and employees on the topic of assault and prevention. I also worked with leadership to create a command climate that supported victims and did not tolerate sexual assault. As a brand new SARC, many years ago, I did the rounds to meet as many people as I could and attended meetings so that I could be visible and become a resource to personnel. It was the first time I worked for the military and I was a little intimidated at first. I walked into my first big meeting and I heard someone say aloud, "be careful about what you say the SARC just came in the room" and I might "get them in trouble." In that moment, I completely shut down. I made a beeline for my seat. I could feel my face get hot with embarrassment. I felt like a total loser. That experience taught me that I would have to get over my embarrassment and feeling uncomfortable. Our silences speak volumes and I never stayed silent after that. I challenged myself to engage people, so they did not feel like I was lecturing them.
You are a successful leader. Which three character traits do you think were most instrumental to your success? Can you please share a story or example for each?
The first characteristic I think that has been helpful to me has been vulnerability. The experience I just shared with you I share with others when I do training. In Jeffrey Kottler's book, What You Don't Know About Leadership But Probably Should, he talks about sharing a story of vulnerability as a teaching tool. So when I tell this story during presentations, I stop at the part where I hear the remark and then I ask the participants, "What do you think I did or said?" Most of the people who know me and my reputation will say things like, "oh Toni you definitely shut that down," or "you must have told them that was inappropriate!" They are always surprised to learn that I didn't say a thing. Sharing my failure, my vulnerable moment of shame, shifts the conversation and the dynamic for participants. They are more willing to openly share about their own discomfort with the topic and hesitancy in being vocal about it. Good leaders create a space that is safe for people to make mistakes so they can grow. I believe that safe space gets created when I show my own vulnerability.
My perspective as an educator has definitely influenced me. I taught college level psychology courses for many years. I think that experience has helped me step back and encourage other people to shine. Giving someone else the opportunity to figure out how to do something is really rewarding for them and for me.
Working on being more self-compassionate, has helped me be more compassionate of others. With the thousands of people I have taught and worked with over the years, I have noticed people who are hard on themselves are usually hard on other people. I think role modeling our self-compassion, also helps others be more compassionate, too. So when I make a mistake I try to move on and help others move on too. We all make mistakes. We are all human.
What are some of the most interesting or exciting new projects you are working on now? How do you think that will help people?
Thank you for asking. I am putting the finishing touches on a workshop called Fierce Self-Care for Fierce Hearted Caregivers: Bold, Determined and Taking Care of Yourself from the Inside Out. Caregivers come in all shapes and sizes. They are doctors, nurses, therapists and people who take care of children and elderly parents. During COVID I worked with many medical professionals and parents who were struggling. The pandemic made it clear that self-care needed to be about mental health. So many people suffered. I am hoping this workshop can provide the support caregivers need so that they can find the energy to continue to do the work they do to support themselves and others.
OK, thank you for all of that. Let's now shift to the main focus of our interview, about the interface between self-care and mental health. From where you stand personally or professionally, why are you so passionate about mental well-being?
I am a mom of a 22 year old with autism. My personal journey began when he was much younger and I realized he was going to grow and be much taller than me and would probably be much harder to handle. He towers over me now! When he was younger I started focusing on my physical self-care, staying in shape and taking care of my health so that I could be around as long as possible to take care of him. But, I noticed that I had a lot of worry and negative self-talk that was taking up a lot of my time. Going to the gym was only part of the picture. I noticed I didn't feel present for him or my other children. I was divorced and felt like I was constantly worrying. I was afraid I was going to snap at my kids. It dawned on me that I needed to take care of the emotional side of me to really complete the self-care picture. Self-care is a mind, body, spirit process. My lived experiences became the foundation for the work I do. To enhance my social work training I also trained in life coaching, health and wellness coaching, fitness nutrition and personal training. It was important for me to understand the whole person. I also am passionate about how our nervous system affects our moods. If we are dysregulated, angry and anxious, we are also sending that energy to other people. Our nervous systems "talk" to each other. When we are out of sorts, it affects other people too. So regulating our own nervous system and taking care of our own mental health can have a positive impact on us and on our relationships.
Based on your research or experience, how exactly does self-care impact our mental wellness?
We all have the ordinary challenges of the day and then there are the extraordinary ones. Learning how to navigate both without being high-jacked by our emotions or triggered into reacting, can improve how we feel about ourselves and improve our relationships, too. Self-care helps us be more resilient and flexible when we are faced with challenges. Resiliency and flexibility help us flow through and bounce back from those challenges, big or small, instead of staying stuck and spiraling down. Hans Selye in his 1956 book, The Stress of Life, identified the General Adaptation Syndrome (GAS) which suggests that our bodies physiologically change over time when exposed to repeated stress. We try to adapt and in the course of dealing with stress things like our blood pressure goes up, hormones that activate our fight or flight mode get released to help us deal with the stressful event, but if we stay on high alert trying to combat stress ALL the time, we end up exhausted and depleted. Now imagine how many times a day you deal with the little stressors and how many times your body might go through this process of being alarmed, going on alert, feeling like it needs to survive. Sometimes it is hard to get out of that mode and it is no wonder we can feel so burnt out. We never give our bodies time to enter into restorative mode. Selye's work suggests that prolonged periods of this adaptation to stress predisposes us to physical illnesses, like hypertension and immune issues, as well as contributing to mental health concerns, like anxiety and depression. We are going to have to adapt to the challenges of the day, but being able to reset, can reduce the stress on our body, mind and spirit. Also, when we are in fight or flight mode we are not fully present and the thinking part of our brain, the pre-frontal cortex, literally goes offline! We are in survival mode and don't even have access to our own problem solving creativity. Mindfulness and learning how to work with the restore and recuperate part of our nervous system can bring safety, connection and calming energy to reduce stress and improve mental health. Recent research published in JAMA Psychiatry (Nov. 2022) suggests that mindfulness-based stress reduction exercises were as effective as medication for anxiety disorders.
Here is our primary question. Can you please share your "Top Five Selfcare Practices That Each Of Us Can Use To Improve Our Mental Wellness"?
I like to think of these practices as using our mind, body and spirit to become more resilient and flexible to cope with all that life throws us.
1. A 3-to-5 Breathing Technique can relax you when you are feeling tense or anxious. Simply inhale through your nose to a count of three and exhale through your mouth to a count of five. When we exhale longer than we inhale we are harnessing the power of the parasympathetic rest and recuperate part of our nervous system. Think of people who are panicking and hyperventilating, what they are doing is inhaling over and over again. If you are tense, you might not even realize your breathing is off. Breath work can be a super useful tool to calm our nervous system so it doesn't stay flooded or on high alert.
2. Surround yourself with objects that can help shift your energy to joy, safety, connection, love and laughter. I would also say to use them liberally and repeat often! When we are stressed or sad, we are not in a place of connection. The place of connection is a healing place. We can mindfully bring more of that connection into our day so we can recover more quickly when we are stressed, or overwhelmed. Deb Dana calls the objects that can bring us back to this restorative energy in our nervous system, "touchstones." You probably already have special objects around your home that remind you of positive feelings and connections. Touch those objects intentionally when you need to bring more positive energy into your day. We forget if we have the power to notice the things that create anxiety, like seeing all the unfinished chores around our house, we also have the power to notice the things that do make us feel peaceful, safe and connected to the people we love. I have some objects on my desk that I use in this way. When things are really going sideways and I don't have anything nearby, I search my browser for "dog shaming memes" and that makes me laugh and totally shifts my energy.
3. Use mindful pausing as a practice to help you counteract "knee jerk people pleasing." Many people have a hard time saying "no." They are triggered into automatically saying "YES!" Constantly feeling triggered into saying "yes" can stretch you thin, may cause you to juggle too many things, creates more pressure and stress and over time might contribute to feelings of resentment. Mindful pausing can give you some spaciousness between yourself and the question to evaluate the options. Use a 15 second pause next time when someone makes a request to give yourself time to weigh your options and check if it really is something you can do. If it feels weird to pause during a conversation with someone, try saying something like "May I get back to you on that a little later?" It works the same as a pause because it still gives you a chance to evaluate the request.
4. Sometimes, just say "Oopsie!" I am sure you are wondering where I am going with this one! This simple little practice can help build self-compassion, self-esteem and add a little humor into your day. These are important parts of self-care. So many of us automatically beat ourselves up over the little mistakes we make. The daily hassles build up over the day and can take a toll on us. Dealing with hassles and beating yourself on top of that just adds insult to injury. It erodes your self-esteem and ruins your mood. If you are unhappy you might even have a difficult time interacting calmly with your loved ones. Even though we know it isn't helpful to beat ourselves up, it is difficult to stop it. I used to get mad at myself for little mistakes, like forgetting my keys in the house or being late for an appointment. I would hang onto the anger at myself for the day and it really sucked, made me feel terrible about myself. I realized that seeing myself as a screw up was not helpful to me or anyone else in my life. That's when this little nugget came into my head. One day, I made a small mistake, I think I knocked some juice over, and just said, "Oopsie," out loud. I sort of said it to my daughter, who was a toddler then. I even smiled when I said it. It felt good. I just cleaned up the mess and moved on. Taking care of your mistakes will feel so much easier when you let yourself off the hook and let go of the mistake. When we make little mistakes sometimes our brain chimes in and says "see you are a screw up!" So the "Oopsie" trick helps dismiss any evidence you can use against yourself later. You are not reinforcing the negative thoughts! If you can use this on small little mistakes, you will have the energy to deal with the big ones. This small kindness for yourself can help you build a practice of self-compassion.
5. Use a Heart Holding technique to care for yourself. I have a few versions of this. I will share one with you. Take a look at your hand and imagine it is the hand of someone who loves you. It could be someone who is still with you, or even someone who has died. Remember one moment you felt safe and loved by this person. Put your hand on heart. Imagine gently breathing into your heart. Savor the feeling of love and safety in your body. You can do this for 30 seconds a few times a day to regulate yourself when you are feeling stressed.
Can you please share a few of the main roadblocks that prevent people from making better self-care choices? What would you suggest can be done to overcome those roadblocks?
The biggest obstacle I often hear is, "I have to take care of other people; they rely on me so there is no time for self-care." The assumption here is that self-care is selfish and you are taking time away from someone who needs you. However, I can say we can tweak this argument to highlight the importance of self-care. We need to change our mindset to one that says, "I have to take care of other people, they rely on me so I have to find time for self-care so that I can be there for them." I talk about the importance of self-care for caregivers for just this reason. Remember earlier I mentioned my sister who passed away? She was only 53 years old. Guess what, she was one of those people who took care of everyone else and put herself last on the list. I just want to remind people, if you take some time for yourself now, you might have more time for others later on.
The other obstacle I hear is probably, time. A lot of people think of self-care as long bubble baths and going to the gym for hours. Yes, those are certainly great self-care activities. But if you are in a time crunch, you can still incorporate small practices. I specifically shared quick and easy things to practice to remove the roadblock of time. Doing a 3-5 breathing cycle 6 times takes about a minute. Change your mindset here to find small ways to connect and recharge your mind, body and spirit.
In one sentence, what would you say to someone who doesn't prioritize their mental well-being?
The people who love you want you to take care of yourself now so that you can be there for them later.
Thank you for all that great insight! Let's start wrapping up. Can you share your favorite "Life Lesson Quote"? Why does this quote resonate with you so much?
Maya Angelou said, "I've learned that people will forget what you said, people will forget what you did, but people will never forget how you made them feel." This quote makes me think about how I want to be remembered when I die. My kids won't remember the gifts I bought them, but I do hope they will remember feeling loved and feeling safe. Best part is I am still here and I get to shape how I am remembered every day, and with every interaction, with every person I meet. To me that is a life well lived.
We are very blessed that some of the biggest names in Business, VC funding, Sports, and Entertainment read this column. Is there a person in the world or in the US whom you would love to have a private breakfast or lunch with, and why? They might just see this, especially if we both tag them ????
I would love to meet Brené Brown. I was inspired by her very first TedTalk and then became hooked. I love her videos, books, podcast and her recent "Call to Courage" show, which I recommend to my clients. I feel like she gets me. Her sharing about vulnerability and shame has challenged me to find my authentic voice as a therapist, a wife, a friend and mother. When I doubt myself, I try to remember I am in the "arena" and that is all that matters. So I would love to meet her to personally thank her for helping me and helping my clients, too.
I truly appreciate your time and valuable contribution. One last question. How can our readers best reach or follow you?
Thank you, thank you! I love to interact with followers and learn how I can help them.
You can follow me on Instagram @strongatthecore_counseling or LinkedIn Strong at the Core
Thank you so much for the opportunity. This was really an amazing experience and felt a bit like we were taking a journey, hand-in-hand together. And Maria, after spending all this time together with you, before we part, I just want to say, love you.